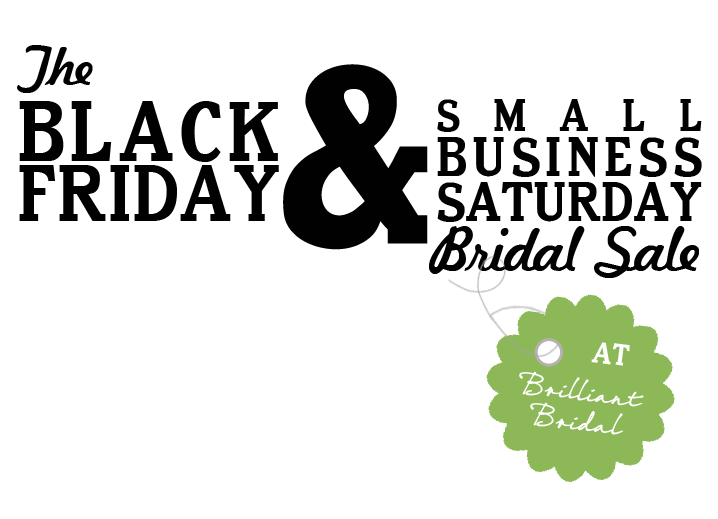 Okay, we know what you're thinking.  Black Friday is for saving money on toys, Christmas gifts and TVs and electronics, not wedding dresses.  Which we thought was true too until last year when our store was PACKED with brides-to-be looking for a killer deal on their dream wedding dress on Black Friday and Small Business Saturday.  Lucky for them (and you!), here at Brilliant Bridal we love helping brides look like a million bucks with whatever your bridal gown budget might be.
And we always like a good excuse for a sale to help you stretch your wedding budget even further!
So we're embracing the spirit of the season with our Black Friday and Small Business Saturday bridal sale on Friday, November 23rd and Saturday November 24th!*   The first 10 brides-to-be through our doors both days will receive a gift certificate for
$50 off a wedding dress under $1,000 OR
$100 off a wedding dress over $1,000!
If you also happen to be paying for your dress with an American Express credit card, you can save an additional $25.00 by registering your card with their Small Business Saturday promotion.
So round up your family and friends that are in town for the Thanksgiving Day weekend and plan on being at Brilliant Bridal early to score a great deal on a designer wedding dress!  Dressing rooms will be available on a first come first serve basis on Friday, but we will be taking appointments for Saturday.
We will be open from
9am to 2pm on Friday, November 23rd and
10am to 6pm on Saturday, November 24th.
We can't wait to help you find your dream wedding dress and help you save some serious cash at the same time!
*Gift certificates are valid for new customers only and may not be applied towards remaining balances on dresses that are currently on hold or a payment plan at Brilliant Bridal.  May not be combined with any other discounts, coupons, or credits with the exception of the American Express Small Business Saturday Discount.