Here at Brilliant Bridal, we consider ourselves an honorary spice girl. And with our sister Mel B getting engaged, we knew we had to put together a lookbook of dress inspiration that is so awe-shockingly gorgeous, they are guaranteed to spice up the aisle!
Listen, if we know anything about our Scary Spice, she is not afraid to do something bold, innovative, and downright sexy. We also know that she is not going to have just one wedding day look! We've got her getting ready look, her ceremony dress, and of course, we see her changing into a fun party dress for the reception!
So let's get started with her getting ready looks, and don't worry, it's not going to be your average robe or pj set… Now, this is going to have to be something that is comfortable, easy to change out of without messing up her hair and makeup, and stunning for photos.
This has a classicism to it, not completely scandalous, but giving just enough. And the floor-length robe has that touch of drama to really elevate the look. Comfortable to get ready in, but still looking effortlessly gorgeous, which is perfect for Mel B.
We could also see her getting ready in something like this. Elegant, classy, with a touch of sexy. This will definitely photograph well and it will be
a little more comfortable to enjoy morning tea and the getting ready process.
Next up is the ceremony dress! For this, we definitely see more of an ethereal, sultry look. Something different, maybe a little innovative. We definitely see Scary Spice setting a trend here and not following one. Mel B has a gorgeous figure to show off, and it's something she has proven she is not afraid of doing. If we're right, she is definitely going to lean toward something a little more fitted, but still dramatic. Here are a few options of styles we think she is going for.

This dress is probably our top pick for the future Mrs'. This "Lady Bug" Gown from Reem Acra's Love From Above collection is absolutely stunning. Elegant, classy, different, sheer in all the best ways, and sexy, yet will let Mel shine in the entirely unique way that she is known for.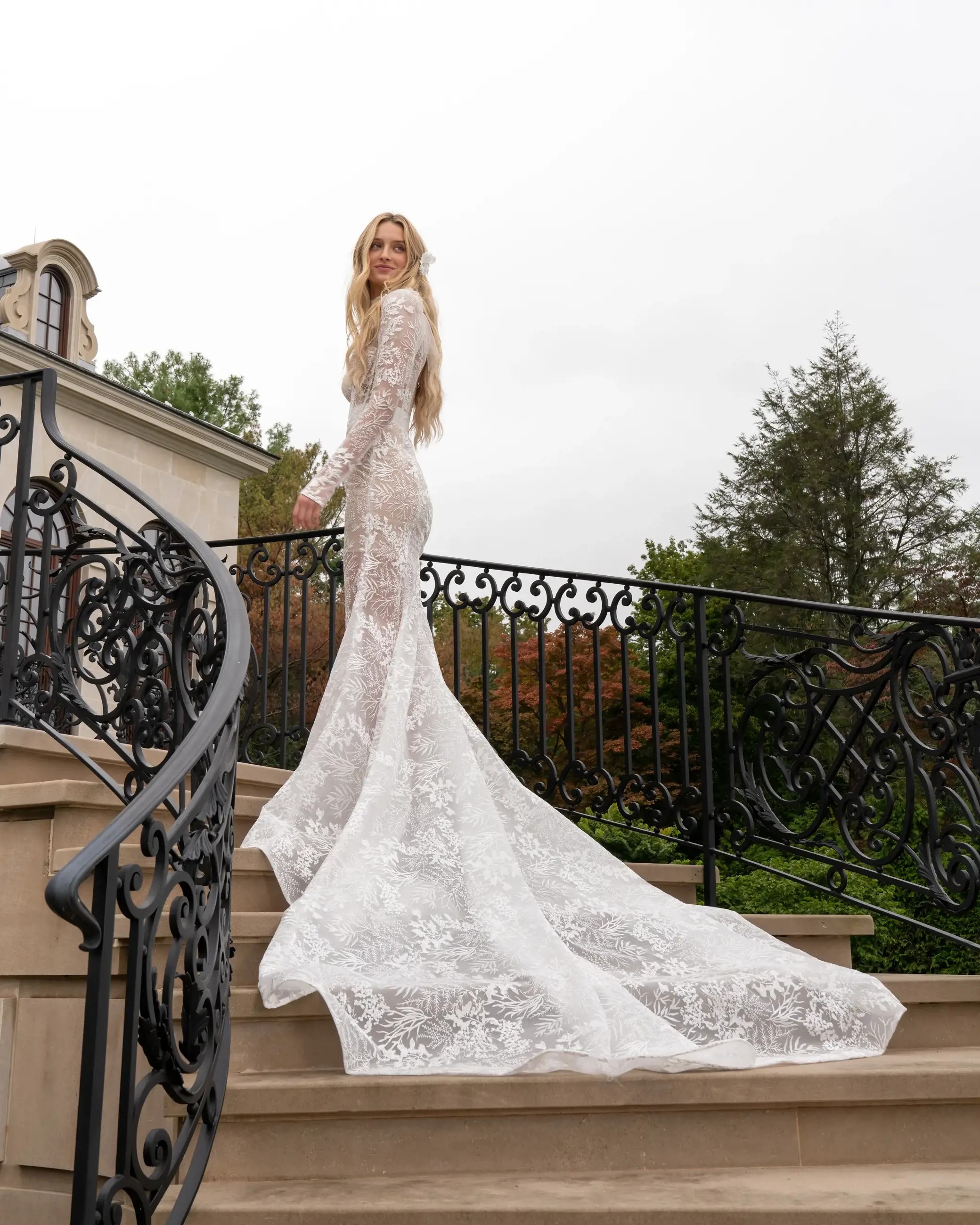 Now, while we are solid on the style of our first choice, we also think that Scary Spice might go with an unexpected pick like this Diamond Corset Wedding Ball Gown from Galia Lahav. It has a dropped waist, dramatic skirt, exposed boning, and gorgeously beaded off-the-shoulder straps. It's subtle, sexy, unexpected, and definitely setting the trend for her wedding season, and everyone after.
The reception look is where Mel is really going to have some fun and, dare we say, get a little spicy… and here are some of our favorite looks for her:


Listen, if you only trust us on one thing, it's that Scary Spice loves herself a good jumpsuit that she can dance the night away in, and this Pearls of Wisdom bridal jumpsuit by Anne Barge is absolutely perfect. Plays with femininity and strength, which is what she is known for. This high neckline would look absolutely stunning on her, and this jumpsuit is overall something she'll be comfortable in all night long.
If she decides to opt for a dress for her reception, it's going to be something more like this. It has the high slit to show off her gorgeous legs, but a soft and silky fabric that she can be comfortable dancing the night away in. This Berta gown style 23-P109 is perfect for her to party the night away! This style of dress is something that is elegant, timeless, but still sultry, fun, and perfect for a fun night! And think of the exit photos…


No matter what she chooses: our beloved Scary Spice is going to look amazing! And while this was fun for us to put together, we cannot wait to see what she has her say yes moment and walks down the aisle in! And if you're anything like us, you'll feel the exact same way.